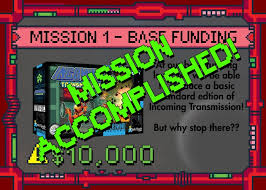 This episode of Getting Geeky with Gamer Leaf is being powered by Kolossal Games and their latest game Terrors of London  launching to Kickstarter on the 31st of July!
Gamer Leaf sits down with Ian and Michael to talk gaming and everything that is  Incoming Transmission - Cooperative Sci-Fi Pixel Board Game that is on Kickstarter through Fri, August 10 2018 11:00 PM MST.
AAA: Tabletop Simulator &  CV Simulator
How to stalk them online if you don't want to be creepy:
Twitter @Magicmeeple, Facebook.com/magicmeeplegames
Website: magicmeeple.com
Kickstarter Corner: 
Bringing HLG Con to the Next Level 
through Thu, July 26 2018 7:23 AM MST.
Crown of Aragón  through Fri, July 27 2018 11:00 AM MST.
Jetpack Joyride through Tue, July 31 2018 2:58 PM MST.
Dice & Dragons - Fantasy Role Playing Dice Game.
 through Wed, August 1 2018 11:30 AM MST.
Asanakids: learn yoga and mindfulness while playing through Wed, August 1 2018 1:51 AM MST.
The Abandons - A Solo Labyrinth Escape Game  through Thu, August 2 2018 7:00 AM MST.
Kingdoms of Erden: King of the Mountain (Dwarven Expansion) through Fri, August 3 2018 5:07 AM MST.
Joust for Fun: a Historically Inaccurate Card Game 
 through Sun, August 5 2018 9:05 AM MST.
Clustered: 2nd edition - A Strategic Card Game
 going through August 10th 2018
 through Sun, August 19 2018 7:00 PM MST.
Totally Medieval: The Epic Adventure
 through Fri, August 24 2018 8:09 AM MST.