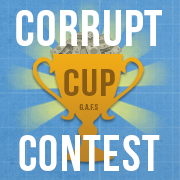 This episode of Getting Geeky with Gamer Leaf is powered by Kollosal Games who are launching Terrors of London on Kickstarter on the 31st of July!
Gamer Leaf sits down with Lukas to talk all about Corrupt Cup Contest which is on Kickstarter through Sun, August 12 2018 7:29 AM MST.
Links of stuff we talked about:
https://www.youtube.com/watch?v=23Fe8VOwFE8
AAA: Tiki Taka Soccer for android and for IOS
Terrors of London  sponsor of episodes: https://www.facebook.com/events/238300580112831/ launching 31st of July!
The Forgotten Dungeon Mega Adventure - AD&D, D&D5e
https://www.indiegogo.com/projects/the-forgotten-dungeon-mega-adventure-ad-d-d-d5e#/ going for the next 16 days 
   Out of Sorts - A Wooden Tile Game for Families 
https://www.kickstarter.com/projects/706541013/out-of-sorts-a-wooden-tile-game-for-families?ref=nav_search&result=project&term=Out%20of%20Sorts%20-%20A%20game%20for%20creative%20kids%20of%20all%20agesthrough Thu, July 19 2018 4:07 AM MST.
 through Tue, July 24 2018 7:59 AM MST.
going through July 24th
Bringing HLG Con to the Next Level 
through Thu, July 26 2018 7:23 AM MST.
 Crown of Aragón  through Fri, July 27 2018 11:00 AM MST.
Elite: Dangerous Battle Cards (@EDBattlecards) 
 through Sat, July 28 2018 4:09 PM MST.
Jetpack Joyride through Tue, July 31 2018 2:58 PM MST. I watched Michael Wright ( Unfiltered Gamer do a live play through of this game. IT LOOKS oh so FUN!) 
Asanakids: learn yoga and mindfulness while playing through Wed, August 1 2018 1:51 AM MST.
Kingdoms of Erden: King of the Mountain (Dwarven Expansion)  through Fri, August 3 2018 5:07 AM MST.
Clustered: 2nd edition - A Strategic Card Game
going through August 10th 2018
Incoming Transmission - Cooperative Sci-Fi Pixel Board Game
through Fri, August 10 2018 11:00 PM MST.
Totally Medieval: The Epic Adventure
 through Fri, August 24 2018 8:09 AM MST. Ad through 10 August
Arsenal - Transforming Deck Box + Cloth Mat 
 through Sat, August 18 2018 6:32 AM MST.