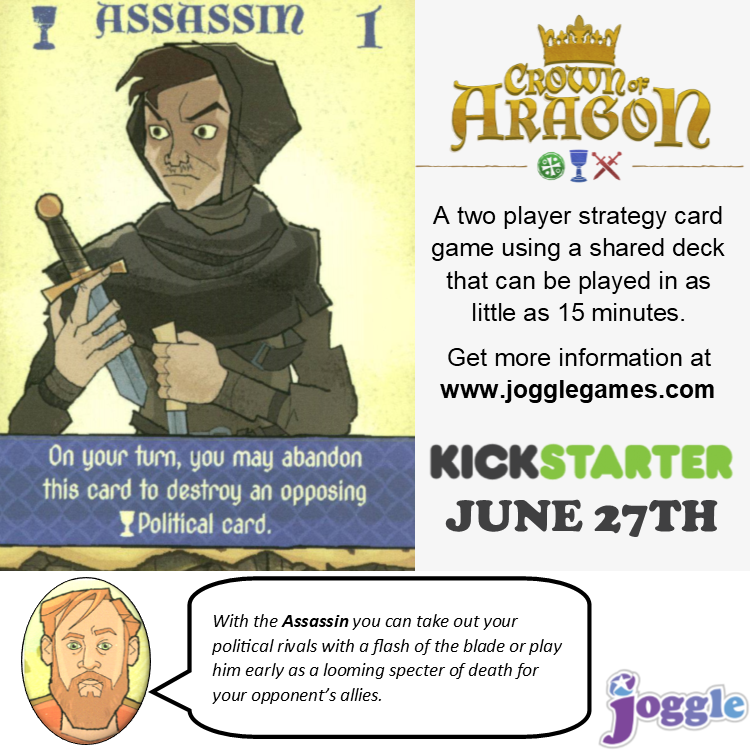 Gamer Leaf is the 1st one to sit down with James from Joggle Games to talk all about everything Crown of Aragón which is on Kickstarter through through Fri, July 27 2018 11:00 AM MST.
Keep your ear out to hear James chat with the good people over at board with friends soon.
AAA: Sea of Thiefs
@Jogglegames
STAYTUNED FOR AFTER KICKSTARTER CORNER to hear some of our thoughts on this great game!
Kickstarter Corner:
REMINDER of our GLOOMHAVEN giveaway!
Dragonscales Fantasy RPG by James M Ward and Stephen A Lee
 through Mon, July 9 2018 6:14 PM MST.
 through Thu, July 12 2018 11:15 AM MST.
Out of Sorts - A Wooden Tile Game for Families 
 through Thu, July 19 2018 4:07 AM MST.
through Fri, July 20 2018 8:50 AM MST. Giveaway from Boardgame Stories https://gleam.io/zsFKm/vikingjarl-giveaway
Chris of Casual Game Revolution's CGI 7th Year Kickstarter Countdown
Launches on Tuesday the 10th of July going through July 24th
Bringing HLG Con to the Next Level 
through Thu, July 26 2018 7:23 AM MST.
Immortality. A Greek mythology game with dice, cards & more!
 through Thu, July 26 2018 1:30 PM MST.
Elite: Dangerous Battle Cards (@EDBattlecards) 
 through Sat, July 28 2018 4:09 PM MST.
Kingdoms of Erden: King of the Mountain (Dwarven Expansion) through Fri, August 3 2018 5:07 AM MST.
The Complete McCaigue Creature Compendium Vol. 1 
 through Sat, August 4 2018 9:01 AM MST.
Arsenal - Transforming Deck Box + Cloth Mat 
 through Sat, August 18 2018 6:32 AM MST