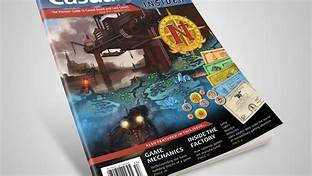 This episode of Getting Geeky with Gamer Leaf is powered by TLDR Game Series who is one of our partner's in our GLOOMHAVEN Giveaway. Did you know that every  tuesday at 12:30 CST Till August they are doing a live stream of this game? Check out their FB Page to find out more and enter at gamerleafgo.com go to current giveaway tab.
Gamer Leaf sits down with Tim to talk all about Kingdoms of Erden: King of the Mountain (Dwarven Expansion)  that is on Kickstarter through Fri, August 3 2018 5:07 AM MST.
Links:
https://www.facebook.com/Kingdoms-of-Erden-1425845560967410/ 
AAA: DC Legends
Kickstarter Corner:
It's been a while have you filled out our survey? Listeners https://www.gamerleafgo.com/getting-geeky-with-gamer-leaf-survey/
Publishers: https://www.gamerleafgo.com/ggwgl-publisher-survey/
 Dragonscales Fantasy RPG by James M Ward and Stephen A Lee
 through Mon, July 9 2018 6:14 PM MST.
Raccoon Tycoon that's on Kickstarter
through Wed, July 11 2018 2:00 PM MST.
 through Thu, July 12 2018 11:15 AM MST.
Out of Sorts - A Wooden Tile Game for Families 
 through Thu, July 19 2018 4:07 AM MST.
through Fri, July 20 2018 8:50 AM MST. GIVEAWAY from Boardgames Stories: https://gleam.io/zsFKm/vikingjarl-giveaway
Bringing HLG Con to the Next Level 
through Thu, July 26 2018 7:23 AM MST.
Immortality. A Greek mythology game with dice, cards & more!
 through Thu, July 26 2018 1:30 PM MST.
Crown of Aragón  through Fri, July 27 2018 11:00 AM MST.
Elite: Dangerous Battle Cards (@EDBattlecards) 
 through Sat, July 28 2018 4:09 PM MST.
Clustered: 2nd edition - A Strategic Card Game
 launches on July 10th! going through August 10th 2018
GIVEAWAY EPISODE LAUNCHES TONIGHT!!!! Be on the look out!